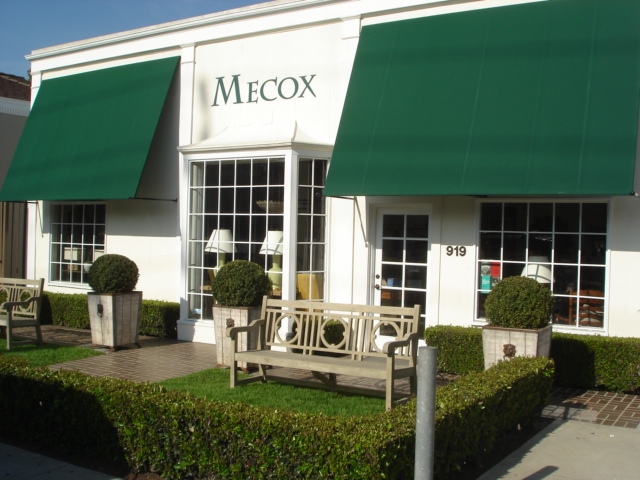 919 N. La Cienega Blvd.
Los Angeles , California 90069
Phone: 310-358-9272 | Fax: 310-358-9273
Email: [email protected]
Hours: Monday-Friday 10:00am-5:00pm
Private Appointments Available, Including Weekends
When Mecox wanted to find its California home, the choice was a no-brainer. The allure of the west coast was hard to resist on its own, but combined with the incredible design corridor along La Cienega Boulevard in West Hollywood, it became a done deal. Back in 2003, Mecox opened its Los Angeles emporium in a free-standing 1920's building that stood out among the rest with a rare grassy "front yard".
Since opening its doors 11 years ago, Mecox LA is now in great company. The entire five block zone has blossomed into the heart of the interior design trade for West Coasters. The beautiful mix of re-edition and antique home design and eclectic home design stores is the perfect fit for Mecox's eclectic home furnishings, art and accessories.
Since the LA shop is our sole outpost on the west coast, its reach has extended beyond the City of Angeles, drawing shoppers from San Francisco, San Diego and other cities along the Pacific seaboard to its doors. The La Cienega Design Quarter where Mecox is housed, has been a fan favorite for years. Located on La Cienega Boulevard and stretching from Beverly Boulevard to Santa Monica Boulevard, this district is famous for its art galleries, antique shops and of course home furniture and décor stores.
Legendary designers like Tony Duquette, William Haines, Frances Elkins and many others were frequent visitors to the district back in the day, seeking inspiration for their work and perusing the eclectic merchandise found in the area. The famous art dealer Felix Landau even operated his trendsetting gallery in the quarter, back in the 1960's.
Today the famous design zone remains just as popular as ever. Big name designers, artists and discerning shoppers the world over pay a visit to the galleries and stores to explore the latest trends and pick up the most stylish, high quality décor for their homes.
Among the other trendy shops in the area, Mecox is a must-see when shoppers are looking for a rustic, vintage or re-edition item to add to their indoor or outdoor space. Garnering a global interest, the home furnishing store has clients from all over the world: Korea, China and Japan, just to name a few. The LA location has also been featured on many of today's most popular reality TV shows, such as The Real Housewives of Beverly Hills, Million Dollar Decorators and Dress My Nest. Some of today's renowned designers call themselves Mecox clients, namely: Michael S. Smith, Martyn Lawrence-Bullard, Mary McDonald, Victoria Hagan, Tim Clarke, and Mark Sikes. From one-of-a-kind art to beautiful furnishings, visitors are sure to find the perfect new addition to their homes and gardens.